VOLUNTEER MERIT PROGRAM
We have a unique, engaging and rewarding volunteer program that provides our volunteers not only with a sense of accomplishment and pride but with a fun point system of awards they can earn with a fun filled Pizza Party at the end of each quarter held for all our volunteers!
Our program fulfills court ordered hours, diversion programs, individuals, community and school volunteer hours. Our award program is set up as follows:

First Visit: F.R.I.E.N.D.S. Bracelet
20 hours: Certificate of Achievement
40 hours: Medallion
60 hours: F.R.I.E.N.D.S. T-shirt
80 hours: 30 minute ride in the ring with one of our horses!
100 hours: High Quality "Dog Tag" necklace
Please note: We are not able to mail awards due to the high cost of postage. Please plan to attend the quarterly volunteer PIZZA PARTY day to receive all items earned for your service.

NEXT PIZZA PARTY AND MERIT AWARDS: (TBA)

Additional dates for the year to be scheduled as needed:

The time will be 3PM for all dates!
OUR FIRST VOLUNTEER MERIT PROGRAM GET TOGETHER WAS A BIG SUCCESS!! SOME OF OUR FIRST MERIT PROGRAM RECIPIENTS ARE SHOWN BELOW. WE LOVE OUR VOLUNTEERS!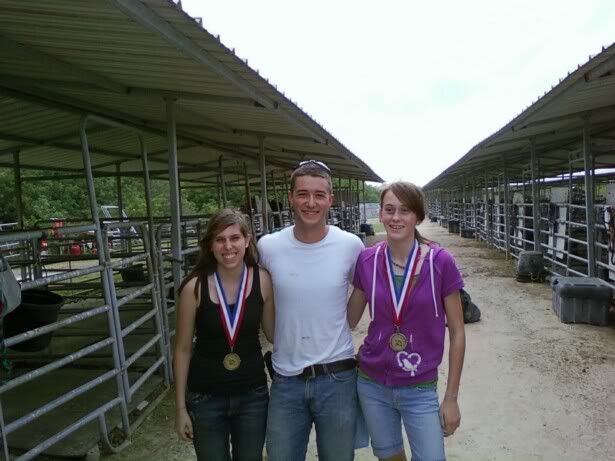 Pictured from left to right:
Victoria Travaglia~60 Hours; Joshua Lasley-100 Hours; Jennifer Ferguson~85.5 Hours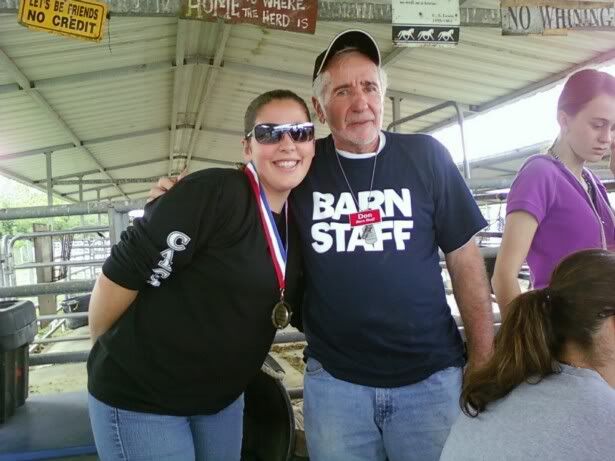 Crystal Giroux and Grandpa Don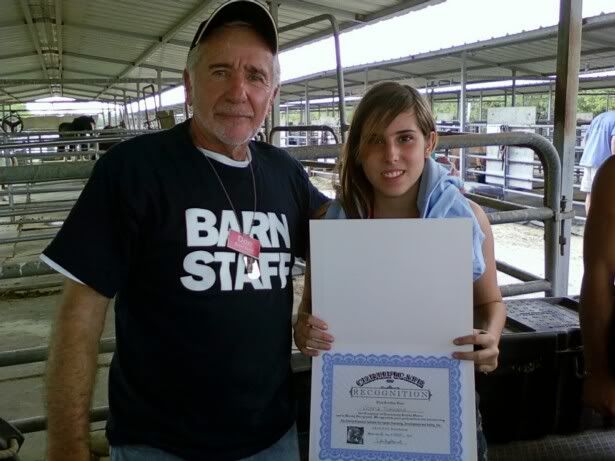 Grandpa Don and Victoria Travaglia~60 hours
WE NEED ````HELP!


F.R.I.E.N.D.S., Inc. is a non-profit SPONSOR-A-HORSE program. F.R.I.E.N.D.S. rescues EIA (Equine Infectious Anemia) positive horses throughout Florida, which would otherwise be destroyed. F.R.I.E.N.D.S. also rescues EIA negative horses in need in Broward county.
E.I.A. IS NOT CONTAGIOUS to humans!! We are a quarantine facility with a large herd on 60 acres. Our facility works closely with animal physicians and researchers hoping for a cure or vaccine for EIA. Other than the fact they must, by law, be isolated from other horses not within our facility, they are healthy and quite capable of having a normal lifespan. At our rescue they are able to enjoy both human and herd companionship. All donated funds go directly to the care and needs of the horses. Our ranch provides an alternative to euthanasia for the horses and an opportunity for our members to enjoy the companionship of a horse, which is otherwise often too expensive for many people. We have numerous functions where the whole family can participate, ride and have fun!

Our hours for volunteers are 1PM to 5:00PM Volunteers are to arrive to start chores during those times on Tuesdays and Thursdays, Saturday and Sunday. If you are interested in volunteering, you must attend an orientation before you begin volunteering. If you are under the age of 18 yrs. old, a parent or guardian must attend the orientation with you. Orientations are held on the 1st Sat. and on the 3rd Sun. of every month at 1:00 PM call to verify time if in doubt.You may choose whichever day is convenient for you. Just show up during the day you have chosen. NO RESERVATION REQUIRED; unless you are planning a group visit. If you are planning or need information about a GROUP VISIT ONLY please contact Debbie Barwick at horserescuer@comcast.net


For information and to schedule a time to come out to the ranch for our Sponsor-A-Horse Program please contact Debbie Barwick at horserescuer@comcast.net For additional information you can also contact us at info@eiahorses.org or 954-492-0168

We look forward to hearing from you and encourage you to join us in helping the horses in any way you can! All non-member visits not related to volunteer orientations, must be arranged by appointment only!
VOLUNTEER PROGRAM: During the orientation you will learn what to wear, how to help, appropriate and inappropriate behavior at the ranch, what is and what is NOT allowed, safety issues, a little bit about our history, hours of operation and the jobs and tasks you will be assigned. In addition, we will be providing basic horse info with weekly handouts to educate and inform you about these beautiful animals.

We also need help with the feeding of the horses. The feeding starts early in the mornings and is usually completed by noon. The feeding volunteers must contact Debbie Barwick horserescuer@comcast.net for information on available feeding opportunities.

We always need help with stall cleaning on Saturdays and Sundays. If Tuesdays or Thursdays are better days for you to volunteer, we also have a critical need on those days for watering and stall cleaning. You will receive the volunteer packet and all needed information regarding the volunteer program and your assignment to specific tasks that are compatible with your needs and schedule at the time of your orientation. We welcome children 6-11 accompanied by parents to participate. Children 12 and older may stay at the ranch without parental supervision.Please consider volunteering for, donating to, or sponsoring one of our beautiful horses today! Thank you !

Skills Required:

1) willingness to work hard

2) willingness to learn or help

3) love of animals and/or horses
Requirements:
If volunteer is under 18 he or she must have a parent or guardian accompany them into the facility the first visit so we can properly validate the consent signature. Thank you!
SOME OF THE CHORES DONE AT THE RANCH INCLUDE:

Groom/Brush Horses
Bathe horses
Clean Stalls
Dump, Scrub and Re-Fill Water Buckets
Dump, Scrub and Re-Fill Water Troughs In Pasture
Dump,Scrub and Re-Fill Water Buckets in Turn Out Rings
Dump, Scrub and Re-Fill Pig Area Water
Bleach All Water Buckets and Troughs
Rake Aisle Ways
Rake All Rings
Pick Up Rocks From Pasture
Sweep and Clean Pavilion
Empty Gas Cans/Combine and Put Empties in Area for Re-Fill
Walk Fence Line of Entire Pasture to Make Sure It Is OK
Pick Up and Recycle All Trash-In Parking Area
Pick Up and Recycle All Trash-In Stall Area & Pasture
Re-Stack All Chairs After Use
Neatly Re-Organize All Stall Cleaning Tools After Use
Clean out All Salt & Feed Buckets
Bag All Trash and Put It In The Dumpster
Mow All Grass- Stall Area, Playground, Parking Lot
Repair Fencing
Paint Replacement Boards and Posts
Remove & Change Out Bad Panels
Move Panels to Appropriate Areas
Help Clean Out Feed Sheds
Help Clean Up Pig Areas
Wash Down ATV's After Each Use
Clean Maure Spreader Blades After Each Use
Level Sand & Mats in Stalls
Work on Leveling Holes in Walk Ways
Move Shavings into Stalls
Move Shavings Delivery into Stall
Replace Broken Boards, Posts and Buckets
Put out Pasture Hay
Help Do Night Feeding
Help With Animal Turn Out
***Any other tasks we have going on that we need help with.***

FAQ's for F.R.I.E.N.D.S. VOLUNTEER PROGRAM
What should I wear?

Please wear old clothes and shoes to the ranch as it can get muddy or dusty depending on the weather. Wear clothes appropriate to ranch type work. We have raccoons that have been known to "borrow" items such as keys, cameras, cell phones etc. so please wear clothing with pockets so that you can keep these items on your person.

What should I NOT wear?
Do not wear tight fitting clothes or other clothing inappropriate to physical work. No "short shorts" on young women or "sagging" pants revealing underwear on young men. Volunteering at the ranch is not the time to be "stylin."
When you go home and take a shower you can dress however you want!!
Do not wear expensive jewelry as it may get lost at the ranch.

What should I bring?

Please bring water or other hydrating fluids to avoid dehydration. Powerade and Gatorade are excellent as they replace electrolytes as well as fluids. A snack or other food is encouraged if you will be out at the ranch long enough to work up an appetite as there is no food or drink (other than water) provided at the ranch. Sunscreen and sunglasses are recommended as the Florida sun can be brutal and you will be outdoors for the entire time. We also encourage you to bring a good attitude and a willingness to work and be helpful.

What should I NOT bring?

Do not bring headphones / earphones and the items that they plug into as it is a hazard to not be able to hear a warning if needed and given by the ranch staff. Please do not bring a rude or lazy attitude with you to the ranch. Use common sense, if it is not going to be helpful to your volunteer efforts, leave it at home!

MERIT PROGRAM: In addition to the basic volunteer orientation, we have a MERIT PROGRAM where depending on your hours of service, volunteers earn gifts of appreciation! The volunteers earn a bracelet for the first day, a certificate for 20 hours of participation. 40 hours earns a medallion; 60 hours a FRIENDS T-shirt; 80 hours earns a 30 minute scheduled horse ride in the ring; 100 hours is a "surprise"! In addition to the above gifts, every quarter we will hold a "PIZZA PARTY" where all volunteers are invited to attend for a day of fun!
We look forward to seeing you and appreciate your efforts to help these beautiful animals in need! Thank you!
"HANDS ON BROWARD" aka HOB Click Here formally known as VOLUNTEER BROWARD PROGRAM:
Many of our volunteers sign up through this program! Please be sure to obtain the 3 release forms from our website and to sign and bring them with you!CLICK HERE for download forms.
VOLUNTEER MATCH PROGRAM: Click Here
IF YOU ARE SIGNING UP THROUGH VOLUNTEER MATCH YOU SHOULD RECEIVE A CONFIRMATION EMAIL.CLICK HERE for download forms. FILL THEM OUT PRIOR TO YOUR VISIT AND SIMPLY BRING THEM WITH YOU WHEN YOU COME TO THE RANCH YOUR FIRST TIME. REMEMBER.... IF YOU ARE UNDER 18, YOU MUST HAVE A PARENT/GUARDIAN ENTER OUR FACILITY WITH YOU THE FIRST TIME IN ORDER TO AUTHORIZE THE SIGNATURE! THANK YOU!
If you are not signing up through an agency to volunteer, simply come to the ranch for the orientation of your choice and CLICK HERE to download, print and fill out the required forms to bring with you. Very easy! Thatĺs all you do to get you started! If you are under 18 you must have your parent or guardian sign. YOUR PARENT OR GUARDIAN MUST ACCOMPANY YOU INTO THE FACILITY THE FIRST VISIT SO WE MAY PROPERLY AUTHORIZE YOUR PARTICIPATION. PLEASE MAKE SURE YOUR PARENT OR GUARDIAN HAS ACCEPTABLE FLORIDA ID SUCH AS A DRIVER'S LICENSE in order to comply with this requirement.

Someone will also be available to answer your questions regarding our sponsor-a-horse program at the time of your visit ! Don't forget the mandatory orientation on the first Saturday or third Sunday of each month which must be completed prior to beginning your volunteer hours! GROUPS please contact Debbie Barwick to get additional information and to schedule. GROUPS ONLY PLEASE! DO NOT CONTACT HER FOR ANY OTHER VOLUNTEER INFO! THANK YOU horserescuer@comcast.net
SPONSOR-A-HORSE PROGRAM: We can also provide information about our SPONSOR-A-HORSE program. This program provides the opportunity to have your very own horse to love, care for and ride for a very reasonable monthly donation. We also have corporate sponsorships! If you are interested, contact Debbie Barwick at horserescuer@comcast.net for additional questions regarding this program.

CURRENT VOLUNTEER OPPORTUNITIES BELOW


"F.R.I.E.N.D.S. NEEDS YOUR HELP" CLICK HERE !
OR
THE HORSES NEED YOUR HELP! CLICK HERE!








Are you interested in our "SPONSOR AND RIDE" PROGRAM? Just click on the horse....IF YOU CAN CATCH HIM and it will take you to see the horses available and waiting for you now!!






---
| VOLUNTEER OPPORTUNITIES | VOLUNTEER AND VISITOR DOWNLOAD FORMS | F.R.I.E.N.D.S. CALENDAR | VOLUNTEERS OF THE MONTH | VOLUNTEERS IN ACTION |
---
| Return Home | HORSES to SPONSOR | RECENT RESCUES | DONATIONS | F.R.I.E.N.D.S. COLLABORATIVE ORGANIZATIONS | VOLUNTEER and EVENTS INFO | F.R.I.E.N.D.S. FUN PHOTOS and MORE! | PARTNER ORGANIZATIONS |